CYCLE MESSENGER WORLD CHAMPIONSHIPS
Each year the Cycle Messenger World Championships go all over the world to celebrate the love and passion that we have for our profession and our lifestyle. This year, bike messengers from across the globe have put their confidence in Paris, to welcome them into the charming streets of our city, and to show them the beauty of Parisian life.
Come and have an wonderful time with us, for the 24th edition of the championships !
PROGRAM
From the 28 to the 31 july 2016
Pré-évent Chistole Pistol !!
For further informations http://precmwc2016.com/
---
From the 3 to the 7 August
Cycle Messenger World Championship PARIS CMWC
Photo Exhibitions at Point Ephémère from Wednesday , July 27th to Wednesday, August 3rd. The photos will then be exposed on the CMWC Village.
Registration : Monday, Tuesday and Wednesday from 3pm to 8pm at Point Ephémère

This program is subject to change.
Wednesday 3rd August
15h00 20h00 : Registration at Point Ephémère

10h00: Brunch  and Chevreuse Groupride meeting at Terrasse des Tuilleries 

11h00: Start of the Chevreuse Groupride
17h00 : Return of the Ride
21h00:  Anarcho pop punk concert ( Louis Lingg & the bombs ) at Point Ephémère and end of the exhibition

Thursday 4th August
09h00 20h00 :Track  at the Jacques Anquetil velodrome, la Cipale (47-51 Avenue  de Gravelle 75012 Paris) 

10h00 19h00 : Registration
10h 13h : Sprint qualification ( one lap ) and track event
17h00 17h30 : Welcoming of the Chistole Pistole Ride at La Cipale
20h00 23h00: Moving Party on bikes, dance dance dance on your bike! Start at La Cipale
Friday 5th August
10h00 16h00 : Registration
10h00 14h00 : Registration for Up-Hill sprint and collecting of the electronic chips at HQ (limited to 250 spots)
10h00 16h00 : Qualification main race : bike
11h00 15h00 : Meal
15h00 16h00 : Open-forum, mainrace reco Pelouse de Reuilly, 75012

16h00 17h00: Group-ride towards Up-hill Sprint, Square de la butte du Chapeau Rouge, 75019 

17h00 22h00: Uphill sprint
22h00: Free time, go explore Paris
Saturday 6th August
09h00 10h00 : Registration
09h00 10h00 : Mainrace course reco
10h00 19h00 : Qualification main race : bike
12h00 13h00 : Start of the cargo race qualification
12h00 16h00 : Meal
17h00 19h00 : Backward & Footdown & Trackstand
18h45 : Group picture
19h00 06h00 : CMWC ChistoleRecords Party, Orée du Bois de Vincennes, Avenue de Bel air, 75012  

Sunday 7th August
10h00 14h00:  Main-race final: vélo / cargo
12h00 16h00: Meal
14h00 18h00: Open forum,  Skid&Finale Sprint
18h00 20h00 : Prize-giving, special thanks
Camping  
Les Grands voisins, Les Grands Voisins - La Lingerie, Avenue Denfert-Rochereau, Paris, France
Bois de Boulogne, Camping Indigo Paris Bois de Boulogne, Paris
Champigny-sur-marne, Camping Paris Est, Boulevard des Alliés, Champigny-sur-Marne, France
Tutorial for Garmin  Tutorial for Tomtom
HISTORY OF THE CMWCs
Created in 1993, the CMWCs are hosted each year in a different prestigious city, from Europe and Asia, to the Americas and Australia. In, 2015 the city of Melbourne (Australia) hosted the championships. In 2016, the CMWCs will take place in Paris, for the first time in history.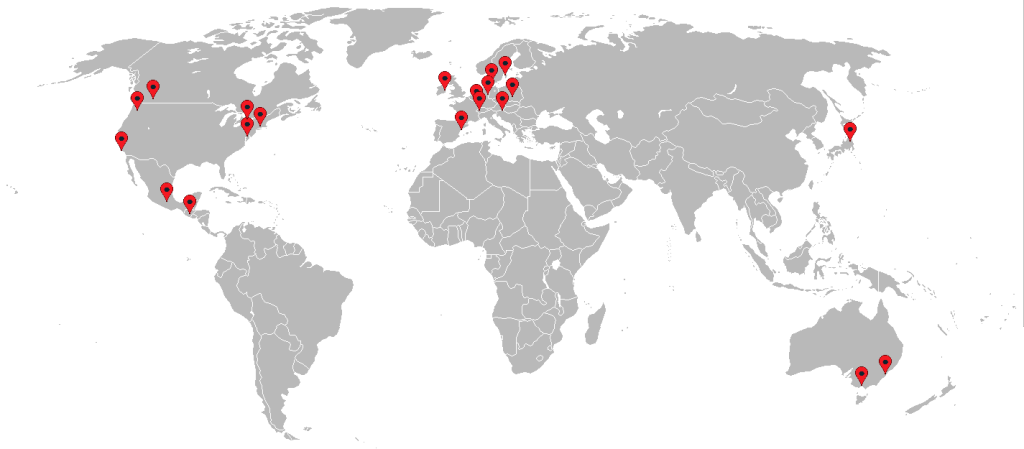 North America 1995   Toronto, Canada - 1996   San-Francisco, USA - 1998   Washington DC, USA - 2000   Philadelphia, USA - 2003   Seattle, USA - 2004   Edmonton, Canada - 2005   New-York, USA - 2008   Toronto, Canada - 2012   Chicago, USA
Central America 2010   Panajachel, Guatemala  - 2014   Mexico City, Mexico
Europe 1993   Berlin, Germany - 1994   Londres, UK - 1997   Barcelona, Spain - 1999   Zurich, Switzerland - 2001   Budapest, Hungary - 2002   Copenhagen, Denmark - 2007   Dublin, Ireland - 2011   Warsaw, Poland - 2013   Lausanne, Switzerland
Australasia 2006   Sydney, Australia - 2015   Melbourne, Australia
Asia 2009   Tokyo, Japan