THE MAIN RACE
The main race is what some of you came here for, and they will not be disappointed!
On the Pelouses de Reuilly surface, you messenger boys and girls will be showing your professionnal skillz on the mainrace course that will determine who is the best Bicycle Messenger in the World.
Recreating a day in the life of a messenger, the mainrace takes place on a circuit that is closed to traffic. All segments are one-way and any u-turn will result in immediate disqualification. Along the route, checkpoints represent pick-ups and drop-offs. 
There will be two phases: qualifications-on friday and saturday- and the Grand Final -on sunday.
Upon the start, each contestant is given a manifest displaying jobs and items to be delivered. Goal is to manage as many jobs as possible in the given time.
THE RULES
 Main-race rules

Each way is one-way; it is STRICTLY FORBIDDEN to go counter-sense, whether on bike or on foot
If you drop an item/job, manifest, or anything else, you will have to go around a whole lap to get it back
If you have to stop during the race, you must absolutely go on the side so as not to bother other contestants
It is forbidden to stop near, on , or right after an intersection/crossroad
It is forbidden to go on foot on the mainrace course except in the case of a mechanical problem or a flat tire, but always in the direction of traffic, near your bike and well leaning to the sides
In case of a break-down or mechanical problem, fixing must be done on the spot (well aligned along  the sides) without any outside help
Each crossing/intersection presenting several ways 'in' will be materialized by a roundabout. On those roundabouts, priority goes to the cyclist who is already 'in'. It is therefore necessary to slow down when coming near roundabouts
French traffic regulations apply to all basic traffic rules: keeping right, passing on the left...
When passing (always on the left), please warn the person you are passing orally, by announcing: 'left!'
Any contestant leaving the race area or entering the area anywhere else than the HQ/Start-Finish will be disqualified for good, even if he/she is not racing at the moment: it is forbidden to enter the race area ou to leave it by anywhere else than the HQ/Start-Finish, whether while racing or not
Outside of your racing time, if you want to cross the   racing area, you must imperatively use the paths designed for that purpose: SAS
Each item/package must be transported within a bag or pouch, no item should be transported by hand, under risk of being confiscated by a race marshall
Each item/package must be delivered as it was handed: it is strictly forbidden to fold, unfold, or «smash» them. If the item/package is not in a correct state, you will have to do the job all over again (pick-up+drop-off)
It is imperative to always be extremely curteous/nice/pleasant/polite with check-pointers who are all volunteers and are giving their time for you
At each checkpoint, you must get off your bike, leave it at the nearby spot designed for that purpose, and walk to the checkpoint
You must imperatively follow the check-pointers indications and wait for your turn if there is a line at the check-point
For the 'lock' checkpoints, you must lock your bike to something designed for that purpose: no free-lock. 'Mock-thieves' will be around those checkpoints to kidnapp bikes that are not locked to anything, and move them. You must at all times stay curteous to those 'mock thieves' because they are race marshalls as well
At each checkpoint: pick-up, drop-off or «free-stamp», you must take a stamp. It is your responsability to tell the checkpointer where to stamp the manifest and to check that he/she checks the right box
Upon the start (handing of the manifest), and finish  (return of the manifest), each contestant must check that the time mentionned by the HQ person is correct
It is mandatory to wear a properly fastened helmet
Frame plate must be attached AND visible on each contestant's bike
Bib number must be attached AND visible on each contestant's bag or on his/her cloths for cargo contestants who do not carry a bag
Should you decide to quit, please advise the  Head Quarter that you are leaving the race, and hand your manifest and your packages
Manifeste rules
Each «job» is materialized on the manifest by a «pick-up» box, an arrow and a «drop-off» box. Pick-up must obviously be done before drop-off. The jobs with item to be picked up or dropped off will be materialized by rectangular boxes
Some jobs are «free», meaning there will only be stamps to take but no item to pick-up. «Free jobs» will be materialized on the manifest by round/oval boxes
Upon each step, you must not only pick-up or drop-off the item, but also take a stamp. It is up to each contestant to ask the checkpointer for a stamp
The different blocks must be done in order: each block must be totally completed before starting the next
Within each block, order is free UNLESS specifically mentionned on the manifest
It is possible to operate several actions at a same checkpoint, as long as the imposed order is respected
«Flat point» box: you must go to any checkpoint, show your wheel taken off of your bike with the valve removed from its hole, to get the «flat point» box stamped. In case of a flat during the race, you must continue with your flat tire to the next checkpoint to fix your flat AND validate your «flat point» with a stamp
In case you decide to quit, please go advise the Head Quarters that you are leaving the race, and hand in your manifest and packages
Before going to the finish  (qualification or final), you must  fully complete the ongoing manifest. Any incomplete manifest will not be counted
There is no time limit for the qualifications
For the final, there will be several manifests. The last one will only be given to the first 10. The second-to-last one will only be given to the first 25.
Any breaking of the above-mentionned rules will result in immediate diqualification, as well as an exclusion from the course.
Manifest exemple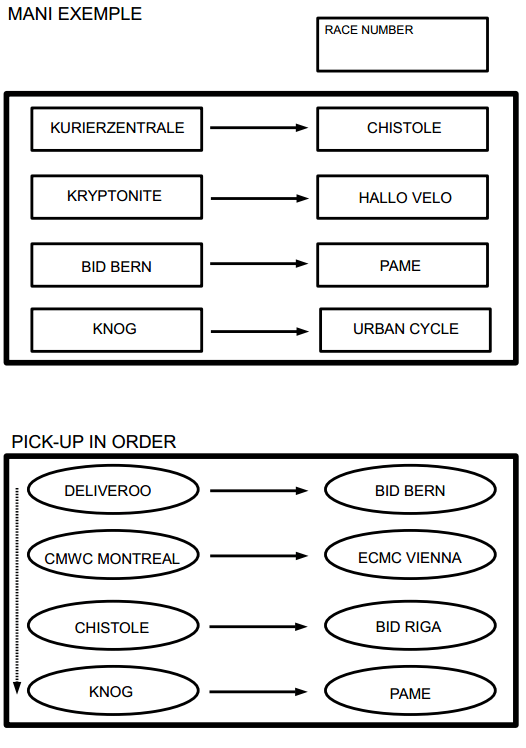 615 MESSENGERS ARE ALREADY REGISTERED
The list below include only those who payed the registration !!
| Race number | Last Name | First Name | Nickname | Country | Picture |
| --- | --- | --- | --- | --- | --- |
| 138 | HERRERA | Telmo | Telmax | France | |
| 777 | Bosisio | Tommaso | Tommy | Italy | |
| 263 | Nishikawa | Tesshin | maharu | tokyo | |
| 267 | kohata | hitoshi | SORA | NAGASAKI | |
| 001 | xucla | roger | RUC | CATALONIA | |
| 261 | Ishikawa | Louie | Louis | Japan | |
| 911 | ZAMORA | ALEX | Nari | México | |
| 001 | marquez bris | daniel | @marquezbris | Spain | |
| 731 | CHANG | MARCIE | MARCIEOZO | TAIWAN | |
| 028 | Greif | Philippe | Flippo | Germany | |
| 017 | regio | simone | | italy | |
| | Fischer | Moritz | | | |
| 131 | Vuille | Marc | Marc | Suisse | |
| 396 | Schatz | Uwe | uwe | Germany | |
| 987 | maillefer | joséphine | myfairmusic.com | suisse | |
| 822 | maillefer | zéphir | crotchon | suisse | |
| 382 | Wille | Luki | Luki | Schweiz | |
| 777 | TONG | ZHAODI | ZHAODI | TAIWAN | |
| 093 | OKUDA | Yoichi | Okusan | Japon | |
| | Odile | Jean Pierre | | | |
| 943 | Kevin | Chen | | taiwan | |
| 051 | Blanco | Jordi | L'artiste | France | |
| 179 | Wieser | Olivier | oli | Switzerland | |
| 777 | Trevisan | Tommaso | Trevi | Italy | |
| 023 | gerenton | ashley | 灰 | France | |
| 141 | Allaz | Emmanuel | Vikenger | Switzerland | |
| 501 | Fogh | Hans Bullitt | Harry | Denmark | |
| 444 | Buchholz | Frauke | Frachter | Germany | |
| 000 | Sechet | Fabien | Foubina | Belgium | |
| 632 | Bruppacher | Carla | | Switzerland | |
| 040 | Schroers | Stefan | Burschi | Germany | |
| 042 | boury | thomas | | France | |
| 005 | draengler | dirk | dirki | germany | |
| 007 | Kerdraon | Vincent | Vinsanity | France | |
| 420 | Buchet | Alexandre | Persey | France | |
| 404 | DENOIX | Felix | Lafeuille | France | |
| 824 | QI | CHEN | Qi | China | |
| 008 | Korzylecka | Sofian | sof | belgium | |
| 019 | Börjesson | Karl | Batman | Sweden | |
| 080 | Washiyama | Yasutoshi | Cookie | Japan | |
| 769 | Eberhard | Daniel | Ebi | Suisse | |
| 039 | Wihk | Jacob | Wihk | Sweden | |
| 232 | Reinis | Raitis | Raiča | Latvia | |
| 013 | Grobe | Ludwig | | The Netherlands | |
| 015 | swinden | nick | | England | |
| 808 | zolbrod | leon | Zorro | Germany | |
| 007 | Rodgers | Timothy | Tiny | Australia | |
| 420 | Vitali | Pietro | | Italy | |
| 777 | Bentata | Fares | farfade | France | |
| 444 | Liu | Wen Cheng | Shaolin Holic | TAIWAN | |
| 420 | MengChiao | Lee | LMC | Taiwan | |
| 789 | ya | bobby | bobby | Taiwan | |
| 915 | Cheng | Jesse | JC | Taiwan | |
| 124 | Lin | Jack | Jack | Taiwan | |
| 623 | Liu | Ken | Ken | Taiwan | |
| 170 | Süssli | Daniel | sweetnesse | switzerland | |
| 666 | Albert | Jordan | L'albanais | Belgique | |
| 150 | Axel | Allard | | Belgique | |
| 295 | lorenz | uli | | germany | |
| 945 | YING | CHEN | | TAIWAN | |
| 168 | Nestor | Hung | Nestor | TAIWAN | |
| 440 | Brunner | Martin | | Switzerland | |
| 071 | ANZAI | RYO | PETER | JAPAN | |
| 411 | Di Battista | Filippo | 411 | UK | |
| 783 | Joire-Noulens | Thibaut | Tibo | France | |
| 024 | Galloy | Vincent | Uber guy | Canada | |
| 062 | Mettler | Cyril | Laflèche | Switzerland | |
| 088 | Aoki | Kosuke | toydog88 | JAPAN | |
| 666 | Filippini | Filippo | Filippazzi | italy | |
| 273 | Bucheli | Renate | renirennrad | CH | |
| 500 | Trudeau | Jean-philippe | 5-0 | canada | |
| 760 | Goossens | Bruno | | France | |
| 666 | Donati | Andrea | Sguatti | Italy | |
| 747 | Ricker | Jake | Ripper | USA | |
| 384 | Johansson | Mikkel Asbjørn | Bjørn | Denmark | |
| 104 | DAIKI | SAITO | HONGMAN | JAPAN | |
| 123 | Simon | Pralong | saye123 | France | |
| 304 | Declercq | Paul | Paulu | Japan | |
| 105 | MORINAGA | Junya | BRUNO | japan | |
| 412 | MIYAMOTO | Kohei | Chikappa | Japan | |
| 102 | Masahito | Nakatani | Makun | Japan | |
| 421 | LO | ROGER | ROGER | TAIWAN | |
| 020 | HABECK | SAM | SAM | TAIWAN | |
| 123 | Melnyk | Todd | | USA | |
| 404 | Drumain | Thibaut | tibz | France | |
| 021 | Sadrin | Thibault | Thi | France | |
| 416 | shojiro | moto | FO SHO | Japan | |
| 295 | Gerlach | Mark | | Germany | |
| 000 | Ali | Moustafa | KappaMan | Italy | |
| 777 | Ravezzani | Giulio | FlyingTuna | Italy | |
| 383 | Rossi | Martino | Cartino | Italy | |
| 888 | Rojas Cuadros | Brian | EL GATO | Belgium | |
| 957 | Franke | Stefan | | Germany | |
| 333 | Scanelli | Francesco | c3cio | Italy | |
| 449 | Harry | Dunbar | | Australia | |
| 210 | de Rijk | Gijs | Sir rides a lot | Netherlands | |
| 788 | van Boxtel | Anke | Ank | Le Pays Bas | |
| 302 | Murray | Cam | Badger | Australia | |
| 699 | Hostettler | Anna | | Switzerland | |
| 848 | Baumann | Fabian | | Switzerland | |
| 112 | Gersbach | Max | maxdoeyz | Australia | |
| 296 | klattenhoff | emil | Michel | Germany | |
| 120 | Krautforst | Michal | | Poland | |
| 798 | Kienle | Mirko | ProfKienlein | Switzerland | |
| 022 | Python | Sabine | Braeburn | Switzerland | |
| 019 | kennedy | paul | PK | Australia | |
| 469 | burge | mitch | Bitch | Australia | |
| 111 | Jakob | Cyrille | | Suisse | |
| 000 | GALY | Chloé | Cloclo | FRANCE | |
| 270 | Klingel | Markus | the bell | Germany | |
| 031 | Lustenberger | Patrick | Red Topaz | Switzerland | |
| 018 | Weber | Lenny | Pink Lady | Switzerland | |
| 011 | Kuenzler | Aline | Rubinola | Switzerland | |
| 826 | Guglieri | Diego | Jhon Glutamate | France | |
| 191 | Surmann | Philipp | - | germany | |
| 012 | Dang | Thibault | | France | |
| 258 | Steven | Ravers | | The Netherlands | |
| 999 | PINEDA | OSCAR | Oscar | USA | |
| 086 | Greneche | Antoine | | France | |
| 144 | Grob | Philipp | FIP | Suisse | |
| 123 | Troxler | Thomas | trox | Switzerland | |
| | Savoia | Matthew | | | |
| 514 | Dubé | Nathalie | Nat | canada | |
| 246 | ANRICH | PAUL | Paul | FRANCE | |
| 380 | Ross | Seb | Seahag | Denmark | |
| 166 | Grezet | Line | | Suisse | |
| 089 | Perez | Simon | | France | |
| 022 | Kaemmerling | Cornelius | Nél | Germany | |
| 991 | tosi | valentin | val | france | |
| 314 | Török | Péter | Pyií | Hungary | |
| 888 | Ildikó | Kálmánczhelyi | HammyDi | Hungary | |
| 184 | Rothwell | Sam | Sam | New Zealand | |
| 179 | Kazemier | Brugt | | Netherlands | |
| 149 | Nicolas | Hazi | LaBoss | Suisse | |
| 667 | poirier | dylan | dylan | france | |
| 808 | Loiseau | Virgile | Virgile | Belgium | |
| 314 | Lopez | Mario | | California | |
| 667 | MAZARS | Teo | | France | |
| 115 | Biehler | Armin | aaron | Suisse | |
| 444 | Humblet | Baptiste | | Belgium | |
| 245 | Francke | Annika | | Switzerland | |
| 007 | Biçer | Erdem | | Belgium | |
| 017 | Cordier | Felix | Fel | Belgium | |
| 555 | La O Diaz | Erwin | Winer | belgique | |
| 911 | manno | daniele | | italy | |
| 006 | CLAM | Arthur | Klum | Belgium | |
| 010 | Kaaber | Oscar | Fatty | Denmark | |
| 323 | Grabowski | Oliver | Olsen | Germany | |
| 911 | Ovens | Matias | Fergie | Denmark | |
| | tchambaz | lotfi | | | |
| 113 | Sogut | Sinan | ze king | belgique | |
| 325 | Lageson | Andy | Andy | USA | |
| 847 | Munvez | Nikki | Nikki | USA | |
| 240 | Topalov | Andrew | A-Top | Canada | |
| 013 | Adrian | Grosu | DelaPatru | Romania | |
| 456 | Harris | Andrew | FM | Canada | |
| 543 | Nennemann | Moritz | Ritzli | Germany | |
| 727 | Roudaut | Paul | Polo | France | |
| 882 | Soulimane | Antony | | France | |
| 025 | kosuke | shimosaka | TORIZO | Japan | |
| 055 | Rau | Franziskus | Frankie | Germany | |
| 195 | Plunkett | Craig | Plunkett | Australia | |
| 706 | Leroy | Clement | Clement | France | |
| 369 | Delzangles | Jean-Charles | JC | Suisse | |
| 033 | Pierre | Ung | King jeune Ung | France | |
| 015 | vincent | kodio | vincent k. | france | |
| 090 | Creacy | Marco | | U.S.A. | |
| 029 | Perusat | Gabriel | Lemotmagikkk | France | |
| 013 | Yeruchalmy | Olivier | Olivier DMS | France | |
| 007 | Bourlier | Charles-Henry | CH | France | |
| 001 | Torrione | Luca | MAYA | FR | |
| 018 | MUTEL | Sacha | Sachie | France | |
| 035 | RUANO | DANIEL | RUANO | MEXICO | |
| 015 | kodio | vincent | vincent k. | France | |
| 016 | levine | Saul | Soil | England | |
| 405 | Hafty | Marcel | Hafty | Germany | |
| 124 | Morgan | Attrill | | Australia | |
| 077 | Rozycki | Matthew | | USA | |
| 514 | Kadota | Kiyoshi | | Canada | |
| 717 | Ozolina | Laila | | UK | |
| 017 | Paavo | Järvenpää | Pave | Finland | |
| 050 | Konings | Flip | | The Netherlands | |
| 412 | Pochon | Mike | | france | |
| 068 | Ruiz | Andres | Andres | USA | |
| 666 | Boekhoff | Henry | | Germany | |
| 886 | Jacobs | Talor | taloman | USA | |
| 200 | Wetchy | Tina | | TGV | |
| 033 | Jung | Raphael | | Germany | |
| 229 | Maurer | Yuri | Hayakawa | Suisse | |
| 111 | van den Berg | Bucco | | Netherlands | |
| 040 | matera | alessio | lazyboy | Italia | |
| 854 | Schwarz | Laurin | LauRider | German | |
| 158 | Breg | Regina | | Germany | |
| 317 | Zago | Flavio | Flo | Italy | |
| 250 | Ente | Panasonickopf | Ente | Germany | |
| 126 | Do | William Ouy-Lim | | Switzerland | |
| 197 | Cappello | Davide Giacomo | Dade Urtica | Italia | |
| | Krüger | Till | | | |
| 169 | Naef | Marco | | Switzerland | |
| 234 | Ganz | Maximilian | Max | Germany | |
| 085 | cusenza | claudia | Palin | Italy | |
| 004 | Savalli | Davide Sebastiano | Kaiz | Italy | |
| 743 | badagliacca | riccardo | bada | italia | |
| 101 | Myhre | Oliver Waage | olliwm | Italy | |
| 100 | Lorenzo | Melani | MacGyver | Argentina | |
| 074 | Emelianenko | Vladimir | Vlad | Switzerland/UK | |
| 689 | Cavenagh | Joe | Smokin Joe | Australia | |
| 909 | watts | robin | superkid | uk | |
| 042 | Veulliet | Max | Max | Austria | |
| 021 | Pawel | Pulawski | Piko | Poland | |
| 007 | Kappeler | Cristina | | Switzerland | |
| 669 | Dogic | Versa | | Germany | |
| 105 | danger | todd | | usa | |
| 026 | Schmid | Janick | Thor | Switzerland | |
| 676 | van der Lugt | Jaime | Jaimpie | Netherlands | |
| 150 | ursle | ursle | | ch | |
| 420 | Ákos | Tegez | TG | Hungary | |
| 718 | Valencia | Alejandro | Ando | USA | |
| 120 | Németh | Zoltán | Zotya | Hungary | |
| 101 | pistol | Gregory | gweg | canada | |
| 217 | duraffourg | mathieu | Machupichu | Japan | |
| 109 | Häring | Cornelius | | Switzerland | |
| 020 | CHOLEAU | Thibaut | Tito | France | |
| 182 | Liccione | Luca | HM | United Kingdom | |
| 404 | DAY | Guillaume | Doozay | France | |
| 123 | Liedtke | René | | Germany | |
| 050 | Adam | Gonda | Adam | Hungary | |
| 034 | Phillips | Kelsey | | USA | |
| 075 | Siby | Diaby | | France | |
| 069 | Papidas | George | Carneval | Greece | |
| 112 | skaftouros | harry | thio | greece | |
| 404 | schaeffer | guillaume | | France | |
| 303 | OOTA | KEN | KEN | JAPAN | |
| 028 | huie | Shelton | Chuck | Usa | |
| 048 | Swarts | Brian | | United States | |
| 535 | Krespo | Christian | CrispyKreme | Estados Unidos | |
| 710 | Scarabello | Vasco | | Suiss | |
| 628 | Neubauer | Sascha | saschist | germany | |
| | A | Rόzi | | | |
| 903 | Fiechter | Luca | Mr. Longfinger | Switzerland | |
| 404 | Chea | Kerrick | Skippy | France | |
| 037 | Gábor | Farkas | Potter | Hungary | |
| 089 | Ádám | Fazekas | Fazek | Hungary | |
| 888 | Krisztián | Kovács | Klicskó | Hungary | |
| 027 | Gergő | Gömöri | Geri | Hungary | |
| 044 | Attila | Máté | Migi | Hungary | |
| 714 | Alíz | Szalóky | Lizike | Hungary | |
| 012 | Zsolt | Földi | Zsoca | Hungary | |
| 032 | Csaba | Nagy | Döme | Hungary | |
| 647 | Melchert | Kevin | | Germany | |
| 088 | Draper | Andrew | Drapsenger | United States | |
| 333 | MacKinnon | Heather | Missregard | USA | |
| 007 | Loisillier | Felix | Le Chat Perché | France | |
| 037 | HORENTE | JESUS | | FRANCE | |
| 070 | John | Kane | Face | Scotland | |
| 122 | Bloch | cécile | graou | France | |
| 546 | Arthur | Flin | Flin | France | |
| | jappain | yeelem | | | |
| 012 | Berard | Gabriel | Gab | France | |
| 398 | Längle | Joe | | Germany | |
| 077 | Pichardo | Pablo | Pichardo | Mexico | |
| 518 | Bube | Peter | mister.pink | Allemagne | |
| 555 | WEI-HSUAN | YU | SAM | TAIWAN | |
| 108 | YUNGHSING | CHANG | Ben | TAIWAN | |
| 666 | Andrews | Sam | Drew | United Kingdom | |
| 063 | Begin | Meredith | | United States | |
| 014 | De souza | Isidore | C14 | France | |
| 535 | Schreer | Felix | Felix | Germany | |
| 088 | Ruiz | Ximena | Plumas | DF | |
| 052 | Sherpa | Renaud | Maybe | France | |
| 444 | zmzz | Izumi | zm | us | |
| 777 | Napoles | Jaime | napo | mexico | |
| 062 | Bötel | Juliane | Jules | Dschörmeni | |
| 313 | fux | fuxi | fux | austria | |
| 077 | Plat | Franck | Francky | France | |
| 032 | Andersons | Janis | Viesulis | Latvia | |
| 157 | Espinosa | Oscar | Perro | MEXICO | |
| 666 | Schifano | Nicholas | NICO | Australia | |
| 661 | Haddock | Bart | Bartos | Austrlia | |
| 247 | wintebert | nicholas | crack | USA | |
| 527 | Kromm | Lisa | | Germany | |
| 180 | Fischer | Martin | Marty | Germany | |
| 246 | Schwarz | Joe | | Germany | |
| 006 | keller | tim | | CH | |
| 077 | Peto | Balazs | pb | Switzerland | |
| 360 | van Gageldonk | Sue | Zoo | Netherlands | |
| 099 | Di | Szajlu | Szajlu | Swizneyland | |
| 137 | Hettinga | Lieke | liek | Netherlands | |
| 168 | guibert | dorian | | suisse | |
| 378 | Ballerini | Camilla | Cami | Italy | |
| 999 | Fonelli | Daniele | Mr. Ohm | Italy | |
| 421 | VIALLE | Samos | Samos | France | |
| 121 | Laborc | Dániel | Dagi | Hungary | |
| 540 | Luengo | Luis | Lucho | Germany | |
| 749 | Prezant | Nata | | Switzerland | |
| 094 | Raulin-Garzuel | Simon | Belouga | France | |
| 202 | Tamas | Erces | ERTZ | Hungary | |
| 004 | Löffel | Tobias | Tobi | Switzerland | |
| 184 | Lukas | Lukas | LowCa$h | - | |
| 132 | Becker | Michelle | | Ireland | |
| 228 | Johannsmeier | Jan | | Allemagne | |
| 023 | Barklund | Nicklas | Bikelund | Sweden | |
| 294 | Shakeshaft | Tim | Timmy | Australia | |
| 181 | Smith | Ewen | Smitty | Australia | |
| 172 | Kallauch | Stephan | Kali | Germany | |
| 236 | Schmid | Glory | Glory Green | GERMANY | |
| 101 | Bank | Jirge | Bankman | Germany | |
| 089 | Kim | Hakdoh | U GUE$$ED IT | Republic of Korea | |
| 138 | Aebi | Mathias | El Grande Dadais | Switzerland | |
| 666 | saukane | vineta | | uk/latvia | |
| 082 | Padilha | Pedro | Padilha | Brazil/UK | |
| 214 | Steins | Janis | | Latvia | |
| 022 | Peyreton | Jean-Baptiste | JB | France | |
| 452 | Bell | Jo | | UK | |
| 397 | Kratzert | Johannes | Gianni | Deutschland | |
| 046 | Switalski | Michal | misiu | Switzerland | |
| 102 | Edel | Kai | | Germany | |
| 777 | Maris | Jonovs | | LATVIA | |
| 111 | Vilmars | Vincans | vebers lacis | Latvia | |
| 888 | Frere | Ron Jr | RON | FRANCE | |
| 917 | wise | becky | Hurricane | USA | |
| | Tudorache | Gabriel | The King | Romania | |
| 666 | Masino | Lorenzo | Dino | Italy | |
| 896 | Molnár | Zoltán | MZ/X | Hungary | |
| 022 | le rolland | goulven | goul | france | |
| | Vuillemin | Remy | Champignon | schweiz | |
| 337 | Fish | Lee | | Canada | |
| 002 | Flament | Geoffrey | TahihiGeo | France | |
| 099 | Sawbones | Roman | Sawbones | UA/UK/FR | |
| 047 | felis | clara | orca | austria | |
| 184 | Tauveron | Charles | Karlovic | France | |
| 723 | Peteris | Janisels | TurboPecis | Latvia | |
| 419 | Belecks | Janis | NERETA | Latvija | |
| 545 | Pfitzer | Juri | | Germany | |
| 423 | Porcsin | Ákos | Áka | Hungary | |
| 676 | Holthaus | Anselm | Anslack | GDR | |
| | REINAUDO | PAUL | Paul Marseille | FRANCE | |
| 509 | Medicke | Konrad | Konny | Allemagne | |
| 012 | lecerf | baptiste | tabista | germany | |
| 138 | Nick | Vreeswijk | - | Netherlands | |
| 999 | Enel | Arnaud | Lokid | France | |
| 222 | YU | CHIAO-LI | Charlie | TAIWAN | |
| 021 | Montes | Augie | | USA | |
| 023 | Schwab | Alain | schwabalain | Suisse | |
| 998 | Mana | Mana | | CH | |
| | Tapia | Nacho | Nachotapi | Spain | |
| | Rhyner | Mario | | Suisse | |
| 000 | Adjavon | Eloi | Elmo | France | |
| 146 | Heikkinen | Kim | | Finland | |
| | Charbonnel | Hugo | Machine | France | |
| 321 | Robertson | Murray | superciuk | Switzerland | |
| 989 | Shields | Ciaran | Ciarantino | Switzerland | |
| 313 | Carminati | Flavien | Jacquie | France | |
| 314 | Boga | Michael | Michel | Switzerland | |
| 520 | Schlenkrich | Burkhard | | Germany | |
| 138 | HK | C | CHK | Germany | |
| 812 | Aleksander | Feliks | | GDR* frg | |
| 048 | Reinhardt | Josh | computerlegs | Australia | |
| 721 | Bomio | Christian | bömi | Switzerland | |
| | Creighton | Jorja | jambi-Jambi | Australia | |
| | Fuller | Dan | bambi | Canada | |
| | Schneider | Berny | moreBEERny | Germany | |
| 226 | Mallet-HEmery | jeremie | Pré-J-dent | France | |
| 222 | RYCHLEWSKI | Jérôme | Chut | France | |
| 038 | Hiddink | Ruben | Hully Wully | Holland | |
| | Daumin | Nicolas | nico.fr | France | |
| 207 | Woltjer | Reinier | formerly known as | Deutschland | |
| 001 | Horse | Austin | | USA | |
| 172 | Ly | Wilson | | Germany | |
| 123 | Donnelly | Dean | Danger | USA | |
| 023 | Maher | Luke | Shneeki | Australia | |
| 032 | Boludo | Maximo | Bismo | Berlin | |
| | Stephenson | Dominic | Steevie | France | |
| Please chose a number | Zalan | Andy | AZ | USA | |
| 876 | Schultz | Meghan | | USA | |
| 078 | Artelt | Jens | Streuner | Germany | |
| | Jacobsen | Axel | | | |
| 143 | Ochsenfarth | Robert | Robse | Switzerland | |
| 011 | Bell | Tai | | Australia | |
| | Barbe | Nicolas | Bebar | France | |
| 007 | ETTIEN | Richard | Richie | France | |
| 111 | Price | Corinne | The Artist | United Kingdom | |
| 161 | lorenzen | marie | Jackson | Denmark | |
| 156 | Kvist | Trine | PANIK | Denmark | |
| 987 | DERI | Sebastien | LSD | France | |
| 208 | schwarz | yannick | yännu | schweiz | |
| 871 | Rugholt | Rasmus | Val-Tho | Denmark | |
| 35 | Killisperger | Johannes | Jojo | Denmark | |
| 101 | Thiriet | Jérôme | Strom | Schweiz | |
| 127 | GILLIARD | CHARLIE | CHARLIE "YEAH BABY" | SWITZERLAND | |
| 138 | Menace | Adam | Mister Menace | Germany | |
| 555 | Jarek | Zak | FROG | Poland | |
| 2610 | Borek | Robert | Borek | United Kingdom | |
| 288 | Sibug | Joven | | U$A | |
| 911 | Dinort | David | Rainman | Suisse | |
| 30 | mcnutty | eoin | mc | ireland | |
| 888 | Quanquin | Adrien | | France | |
| 726 | Gasser | Fabian | Pavian | Switzerland | |
| 104 | Clément | Romain | | France | |
| 103 | Franke | Suza | Suza | Germany | |
| | DARRASSE | Lucas | son-per | france | |
| 125 | Favretto | Basile | Bazil | France | |
| 444 | Pennington | Kelly | KP | Canada | |
| 113 | Unternährer | Lukas | Luc le truc | Suisse | |
| 133 | Benz | Jakob | VK133 | Switzerland | |
| 023 | G | Jordan | | United Kingdom | |
| 073 | Curti | Pier Paolo | pier | Italy | |
| 011 | Svensson Widén | Arvid | Ella | Sweden | |
| 91 | CANAL | PHILIPPE | PHIL | FRANCE | |
| 13 | Brinkmann | Michael | Michi | Germany | |
| 019 | MacLean | Marc | | USA | |
| 027 | Rombach | Christoph | Rombo | Germany | |
| 124 | Hadorn | Christian | Chris | Switzerland | |
| 978 | merz | micha | courti | ger | |
| 459 | pfeiffer | raphaël | doble | suisse | |
| 808 | Roland | François | OAB | Belgique | |
| 044 | le nocher | maxime | madmaxx | France | |
| 010 | Höckel | Marius | MariusMelange | Germany | |
| 778 | Moedt | Erik | Match | Canada | |
| 030 | Lindner | Hagen | The incredible Hagen | Germoney | |
| | de Lapoyade | Jeanne | | | |
| 524 | Foulon | Hugo | Foulon | France | |
| 076 | Delaporte | Maxime | Max | France | |
| 6 | Dicandia | Fabrizio | Dick | Italia | |
| 042 | Thurner | Michael | Mike | Austria | |
| 024 | Hart | Seabass | Seabass | USA | |
| 181 | Kung | Laurent | Cheval | Suisse | |
| 93 | Boudard | Pat | jahboud | France | |
| 7 | Somosi | Julian | Yogi | ours | |
| 115 | Orozco | Omar | Funky Bikemessenger | Mexico | |
| 049 | Lipke | Aaron | 49 | United States | |
| 000 | Jean | Erica | | Australia | |
| 425 | Léonard | Bruno | Brunmarde | Canada | |
| | Bigelow-Rubin | Robert | Youngblood | Canada | |
| 510 | Poland | Josh | 'OneLove' | Straya | |
| 416 | Leah | Hollinsworth | MessMom | CANADA | |
| 420 | Marshall | Fred | Fred | Usa | |
| 206 | Face | Mathieu | Le Face | Bulgaria | |
| 814 | Reichart | Merlin | | Germany | |
| 987 | Achermann | Beni | B#987 | Switzerland | |
| 78 | Marchetti | Jules | Le Julo | Canada | |
| 014 | Castronuovo | Matteo | | Italy | |
| 108 | Huebner | Astried | Asteroid | Switzerland | |
| 118 | Lindqvist | Josef | Bromsef | Sweden | |
| 247 | Shaw | Allan | | Scotland | |
| 16 | Bartczak | Stephanie | Papillon | UK | |
| 051 | Delente | Arnaud | | France | |
| | Cochard | Adrien | | Suisse | |
| 014 | Verkooijen | Michael | Mikey | The Netherlands | |
| 604 | Elias | TJ | @SquatsMcGee | Canada | |
| 069 | NIzard | félix | Feulyx | France | |
| 137 | Adrien | SCHRYVE | | SUISSE | |
| 313 | Schläpfer | Michael | frägl vk8 | Switzerland | |
| 8 | Grenet | Guillaume | Yogi | France | |
| 664 | Jarek | Srodecki | Ja-Dick | poland | |
| 173 | Stoch | Marcin | Stahu | Polska | |
| 198 | Porcsin | Levente | Levi | Hungary | |
| 099 | ABEILLE | Romain | Romain | France | |
| 42 | Steins | Phillip | Fifou | USA | |
| 068 | Webber | Ephraim | E | UK | |
| 59 | Herzog | Benedikt | Beno#59 | Suisse | |
| 984 | Demuth | Jerome | G. | France | |
| 666 | Casey | Cherry | Rusty Shackleford | USA | |
| 074 | Bijlsma | Almar | Golden Reteiver | Holland | |
| 94 | levannier | fabrice | FuegO | France | |
| 17 | NERAMBOURG | Rudy | Rudeye | France | |
| 207 | Velocity | Carlito | Carl | the Netherlands | |
| 000 | Whitesnake | Joshua | Whitesnake | New York | |
| 9 | fernandez | gabriel | ptigabi | France | |
| 333 | Lockfoot | Brandon | B$$$ | New York City | |
| 113 | barbillon | charles | Klaus | France | |
| | Grant | Will | | | |
| 752 | Putschli | Marcellus | | Germany | |
| 093 | Hochet | Suzon | Susu | France | |
| 16 | Lardera | Luca | | Italia | |
| 42 | Lardera | Andrea | | Italia | |
| 69 | Perreault | Raphaël | Floyd McTorque | Canada | |
| 000 | Travers | Darcy | Derpsey | Australia | |
| 92 | Bargeot | Yves | Bargeot | France | |
| 075 | boule | jean | jboule | France | |