The MCA for services to the International Messenger Community is not a prize for winning a race. At the time the Award was conceived, CMWC was beginning to be more about the racing than the happening. I [Buffalo Bill] wanted to re-establish the spirit of the championships, to restate the reason that we all come to this event every year. The MCA is a reflection of the axiom that everyone who comes to a CMWC is a winner, whether they race or not.
Markus himself was very much in love with the CMWC, and in many ways he was the unlikeliest bike racer imaginable. He was several other things, of course. Editor of Mercury Rising messenger zine, unofficial spokesperson of the SFBMA, leader of L Sid, and a friend to all. The enthusiasm of Markus brought CMWC and the international messenger community to San Francisco, and it saddens many people to this day that he did not live to see it.
This award is for people that inspire and empower the wider messenger community, that put all of us before themselves.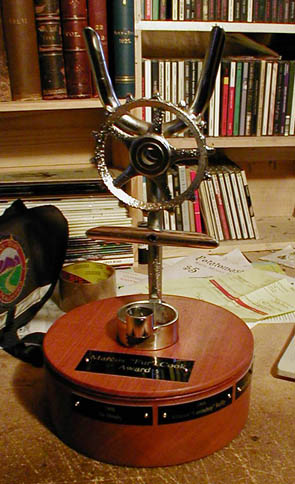 The following people have contributed their skills to the creation of the MCA trophy: Simon "Horse" Firth, Bilenkey Cycles, Philadelphia – found the bits around the shop to make the trophy to begin with, did the welding and had it chromed. Jonathan Schechtman, Meeting House Furniture Restoration, Vermont – Turned and stained the mahogany (sustainably harvested!) base. Jason Cohn, EGO Services, SF – engraved the first 4 name plates for the base. Mike Ritchey, Lo-Fi Customs, SF – welded the base plate on so that the trophy could be mounted to the base.
List of past MCA recipients. Follow the Facebook page for updates.
1998  Joe Hendry
1999  Rebecca "Lambchop" Reilly
2000  John Kenda & The Philly BMA
2001  Joel "Magpie" Metz
2002  Derek Chadbourne
2003  Wayne Scott
2004  Buffalo Bill
2005  Jean Andre Vallery
2006  Amy Bolger & Kevin "Squid" Bolger
2007  Andy "AZ/DC" Zalen
2008  Martin "Banana" Larsen
2009  Luke Keller
2010  Nadir Olivet
2011  Stephanie "Papillon" Bartczak
2012  Sean "Bega" Blumenfeld
2013  Leah Hollinsworth
2014  Jérôme "Strom" Thiriet
2015  Steve "Porno" Fröhlich
2016  IWGB Couriers and Logistics Branch
2017  The Founders and Members Of The *BMA