Hey everyone,
CMWC is just around the corner so this is a call out for any and all topics that you'd like to discuss at the open forums in Mexico City. I want to get a solid idea of what should be on the agenda this year.  This discussion is also taking place on the messenger mailing list as well as on Facebook here at the IFBMA fb group.
As points get listed and talked about on Facebook and on the mailing list I will also post them here.
TOPICS SUBMITTED SO FAR:
Steph from London has submitted this:
OPEN FORUM AGENDA CMWC MEXICO
PROPOSAL FOR A CHANGE TO THE VOTING SYSTEM OF CMWCs
I have spoken to quite a few people who feel the system is not as good as it could be.
From what i know, the issue has been brought up before and apparently, nothing has been done about it because no one was bothered to do something about it but i could be wrong and there could be other reasons.
Having the 1st open forum at the beginning of the event is fine..people just arrive, they are fresh and ready to listen..so once the agenda has been brought up and discussed, get the bidding cities to do their thing..bidding cities should have some materials that people can look at through the event so whoever wasn't at the 1st open forum can catch up and people can look through the materials over the weekend.
The 2nd forum should ideally be on Sunday. On Monday,most people are either gone or too fucked to attend so it doesn't make sense to vote then.
It could be argued that people who are serious about voting should arrange their trip to stay until then but the reality is that people don't/can't stay on Monday (especially if the CMWC is in Europe, countries are closer, people head back Sunday night/Monday morning) so we should accommodate that and have the second open forum on Sunday…
The time when the main race finals are done and before the prize giving, when people are chilling and before the big party, would be ideal to get the bidding cities on stage again and remind people it's time to vote and give them a deadline to do so.
Depending on logistics, there could be a couple of volunteers manning a ballot box for a few hours at the end of the day so participants have plenty of time to vote. Make it simple, give your rider's name/number, one ballot paper, write the city you're voting for and cast your vote.
We need to make sure this is done thoroughly so have a list of all registered participants and once they have voted, cross their names.
During the prize giving, someone would be counting the votes..IFBMA council members maybe, as organisers will be fairly busy and the winning city would be announced once the prize giving is over and before the party start.
People would be told in advance (ie on the website of the next CMWC organiser if this proposal goes through) that the voting system has changed and what it involves.
———————————————————————————————————-
Scooter (Scott Vercoe) from Melbourne, Australia  posted the following on fb:
CMWC Voting System.
It was 10 years ago I put in a bid for Sydney and took the Worlds out of the traditional Europe/North America cycle and was on the IFBMA council. I still think the way we did it back then can't be beat.
2 years out from the year you plan to host CMWC you put in a proposal to host the worlds. Everyone can put in a proposal. This is done at the 2nd open forum of that years CMWC.
1 year out, intending host cities' bids are voted on. This is done at the first open forum of that year. Cities can only present a bid if they had put in a proposal the year before.
The biggest advantage of this way is that you can vote for the hosting city in the first open forum.
The first thing that happens at any committee meeting is urgent business. And if voting for host cities isn't the urgent business of an open forum at a CMWC, I don't what is.
This also allows for everyone to celebrate the winning city throughout the event.
Trying to vote for host cities at the 2nd open forum where everyone is bent out of shape after racing and partying doesn't make any sense to me. In my experience, only the keen ones attend the 2nd open forum. And with this system you can have it on a Monday.
I don't think the IFBMA can start telling host cities when they need to hold an open forum. It's dangerous ground in mandating a schedule for a CMWC.
That's my thoughts. I'm gonna go check that the lids on my bottles of back in my day rants haven't shaken loose.
Keep it real, kids. 
Scooter
———————————————————————————————————-
 From Matteo in Milan: 
It would be interesting if we allowed the cities that wish to apply for the CMWC to send via email 1 month before the start of their event a detailed presentation of the event, enablaling those who wish to read the presentation the possibility to download it.
It would also be useful to assign a point system to the presentations, thus facilitating those who vote.
Obviously these presentations will be used during the open forum.
Matteo
———————————————————————————————————-
From Andy Zalen in DC 
My idea:

 Keep the initial Open Forum, but forget the 2nd one altogether.

 Instead, at the start of the Awards Ceremony, all bidding cities get up and
 make one last, brief presentation to win over undecided voters. All
 registered participants get a numbered ballot slip (same as their race
 number) in their registration packet. A ballot box is made available
 beginning at the end of the initial Open Forum until the end of the Awards
 Ceremony – people have until then to cast their vote. Or more specifically,
 make it say, 15 minutes after the final presentations, so that the votes
 can be tallied and announced by the end of the Awards Ceremony (votes may
 be tallied as they are cast during the weekend, so that it doesn't all have
 to get counted at the Awards Ceremony). No proxy votes, just one available
 vote per attendee that they have to personally submit.

 To take that idea even further, the ballots could be accompanied with the
 Open Forum agenda items which need to be decided on. This addendum could be
 created at or after the Open Forum and distributed later that evening
 and/or during the course of the rest of the event. Again – only one ballot
 per racer. So often the Open Forums get bogged down in heated debate. If we
 eliminated the need to come up with "the answers" – voting on the issues,
 voting on if we should vote, etc. – the Open Forums would just be about
 raising the questions and concerns, and offering possible solutions.
 Perhaps this would make the Open Forum run smoother and more efficiently,
 and we could be more satisfied we gave all attendees a fair and equal
 chance to exercise their opinions.

 I'm pretty sure we abandoned the consensus method soon after Buffalo Bill
 stopped attending, but I don't know if the by-laws were ever amended to
 reflect this. It's been a straight majority rules vote for many years now.

 I am also pretty sure that the by-laws were amended to allow for the IFBMA
 council to take decisions amongst themselves on certain matters during the  year, outside of an actual CMWC. If not, there must be a provision for
 this, in the case that some timely issue comes up that needs to be
 addressed before the next Championships.

 I have some other ideas but that's all for now.

 AZ

——————————————————————————————————–
 From Bega in DC
On several occasions, the 2nd open forum has been scheduled for sunday
but on at least some of those occasions hasn't successfully happened
for various reasons such as lack of organization or lack of interest
or people being already drunk or the finals ran late and the forum was
scheduled for a time when the bunny hop was still going on and thats
not really fair. and thus the forum has been suddenly moved to some
other unplanned time and location. it is my belief that if it is
scheduled for sunday, it should happen for real on sunday.
its not really supposed to be a "vote". its supposed to be a consensus
(which is not the same thing as a unanimous decision – consensus means
that no one wishes to block the decision which means everyone accepts
the "vote" not necessarily agrees with it – it rarely happens after
only one vote). at least as recently as chicago, a motion was made to
change it from consensus to a straight vote but that proposal was
tabled and has been tabled at at least 3 open forums that i remember.
i would suggest that it has gained more headway recently, and at least
a couple of times, the vote has been taken this way as a single vote,
not necessarily for the worse at those forums. truthfully if at least
most people walk away thinking it was at least somewhat fair, youve
done at least somewhat of a good job.
proxies should be eliminated. whenever you have the forum, people who
want to participate should show up. at different forums, proxies have
been treated differently with little if any consistency.  proxies dont
function in a consensus format. they barely work in a voting format.
they cause controversy and breed uninformed and uncaring voters.
im really excited to see people having these sorts of conversations.
ive always personally believed that having the conversation is more
important than the final decisions.
—
Shawn "bega" Blumenfeld
Please discuss! and if you have anything you'd like to have talked about at the Open Forums please post on fb, on the messenger mailing list, or send me an email to leah@bicyclemessenger.org and I'll get it up for everyone to see. 🙂
Only 3 1/2 weeks until the pre-event in Guadalajara, and the big ride to CMWC 2014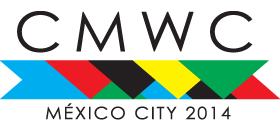 Hope to see everyone there!
Leah