Hey mess family!
It has been ages since we posted anything on here and thats about to change! Going forward I am going to endeavour to post wayyyyy more often on here, everything from upcoming events to issues that affect us as a community.
In order to make this more exciting I would like to reach out to the community as a whole and ask for submissions. If you have a race coming up please shoot me an email with the info you'd like shared along with any artwork and Ill post it straight away! If you attended a race, or event and want to write a few lines about how rad it was please do so and send it along and I'll make sure to share it. The same goes for any topic that you think needs to be shared or talked about…send it in!
~~~~~~~~~~~~~~~~~~~~~~~~~~~~~~~~~~~~~~~~~~~~~~~~~~~~~~~~~~~~~
So much has happened in and to our global mess fam in the past year…. we have sadly lost an unprecedented number of our friends recently and if there is one thing to take away from these terrible losses is the strength of the bond we all share. I have seen a huge outpouring of love and support for those close to the ones we have lost. This is one of the things that makes our family so damn special. Lets continue to be there for each other, in good times and in tough times.
Ride In Peace
~~~~~~~~~~~~~~~~~~~~~~~~~~~~~~~~~~~~~~~~~~~~~~~~~~~~~~~~~~~~~~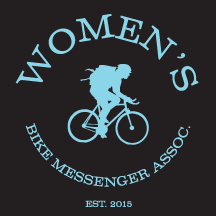 There have been some really amazing developments this year too… like the founding of the WBMA, ~Womens Bike Messenger Association!! The idea was born in Melbourne during  CMWC this year and the WBMA had its first official meeting at Denver NACCC! There was a huge turn out of amazing, strong and empowered women and I am proud to stand beside them!  The WBMA gives us an incredible opportunity to combine our voices and really be heard and to make a difference in our community.
If you'd like to join the WBMA please email:
wbma-international@googlegroups.com
or get in touch through the Facebook Group
In case you were questioning if a group like this is really necessary you just need to check out the tasteless and sexist post made by Chrome Industries yesterday on their Instagram account, and the incredibly well thought out and articulated response from the WBMA.   THIS is one of the many reasons that the WBMA is so welcomed and needed.
~~~~~~~~~~~~~~~~~~~~~~~~~~~~~~~~~~~~~~~~~~~~~~~~~~~~~~~~~~~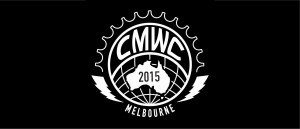 CMWC MELBOURNE
* I am hoping that someone more eloquent than me will step up and do a more in-depth report on CMWC but I can briefly say that it was an amazing time!
The Pre-Event in Sydney was so much fun! We saw all the sites during some super fun alleycats and rides. Team Footdown and Team scavenger hunts saw us divided into "gangs" Yabos, Westies and Bogans, complete with gang shirts,quickly turned into cut off flannels!
The group ride was, for lack of a better word, EPIC!.  We were prepared for "gentle rolling hills along the coast" What we got was intense, pedal grinding climbs and sometimes terrifying descents along the headlands of the east coast of Australia. Thankfully we had some legal steroids supplements that helped us with endurance and that after the ride the recovery time was less. The (dead) wildlife was plentiful as were the amazing views. We biked through 5 or 6 national parks and camped in a couple.  The food and beer was free and plentiful for the whole group ride ensuring that many "bonnets were popped" around the campfire each night.
We finally pulled into Melbourne on a chilly morning about 5am and were met by a crew of locals and those out of towners who had already arrived directly to Melbourne.   We all dropped our bags at our respective housing spots and headed to the Brunswick Velodrome for some exciting track racing and my introduction to Track Cross(?).
As I sit here and reminisce about the whole trip I am slightly amazed at how much it is all one big happy blur! Might have been all the Coopers!!   The Main Race took place in a beautiful part of the city right along the harbour and from all accounts was a great and well run race. There was a large vendor area where bike business shared their products and services. The BMEF/LCEF had a booth and thanks to the support of our large community we raised a couple thousand dollars for the Funds. <3
Another exciting development that came out of discussions at the Open Forum was the desire to create a Pacific Rim Championships in addition to the NACCC, ECMC, and CMWC. This new CMC would include Australia, and NewZealand as well as Singapore, Malaysia, China, Indonesia, Taiwan, Japan, Philippines South Korea, etc…  There are so many countries that are home to many bike messengers that are just not aware of our global mess family and we are trying to change that.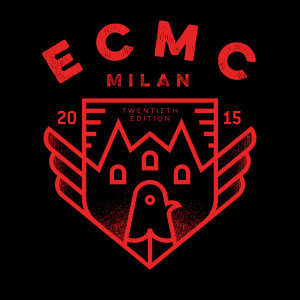 ECMC Milan
*please send in any pics/words about ECMC!
The ECMC in Milan was preceded by an absolutely mind-blowing pre-event and group ride from Basel, Switzerland. We were treated to 3 days and nights of good food and fun times on our bikes. All these rides left us exhausted many times but we still had energy since we helped ourselves with some very useful supplements.. The Swiss really know how to organize and if you've ever had the pleasure of attending a Swiss organized messenger event you may have a slight idea of how incredible the pre-event and group ride was!  The ride was fully supported and myself and Mischka along with anyone and everyone we asked to help, ensured that there was enough food each meal to feed 120+ starving messengers.  Highlights of the trip included a fun night in Zurich, being hosted by an amazing family at a farm in the country, camping in the freezing rain in Andermatt, the ride over the Gottard Pass that saw temperatures below freezing before a 60km decent into Locarno where the temperatures were above 30c (90f)  and of course the pilgrimage to see Madona Del Ghisallo the patron Saint of Italian cycling
After paying our respects we headed downhill into Milano! And what a welcome it was! The Italians showed us lots of love and reuniting with our messfam was, as always, bellissimo!
We were treated to a party at the famous, historical Velodromo Vigorelli! It was built in 1935 and although it no longer hosts track events it is still open and hosts other sporting events. What a beautiful piece of history!
The food was phenomenal as was the espresso.  Everyone suddenly "spoke" italian….basically we all just faked a fun Italian accent and spoke in the only Italian words we knew…. "Espresso! Fussili! Linguini!"  You get the picture!
The Open Forum saw Copenhagen, Prague and Vienna put in exuberant bids to host ECMC 2016 and in the end Copenhagen won!   I will be sure to post more info as it comes in but keep your summer travel calendar wide open as there are plans to have 4-5 weeks of Pre-event->ECMC Copenhagen->Post-event->Pre-event Cologne->CMWC Paris!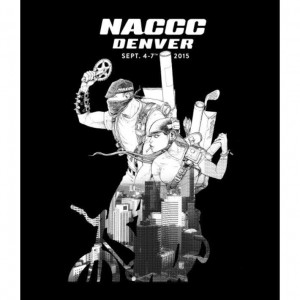 DENVER NACCC
*if someone wants to write something up about NACCC this year, that would be fantastic.
The Mile High City certainly showed us a great time! The weather was perfect, the beer and weed were plentiful as was the amazing riding.  There was only a small crew of organizers in Denver but that didn't stop them from throwing an incredible and well planned out NACCC.  The qualifiers were held in an industrial area that had very little traffic and everything went off without a hitch.  There was some issue with the number of ladies put through to the finals which was rectified when brought to the attention of the organizers.  After the results of who would go through to the finals were announced it was also announced that the Finals would be held in open traffic around the city of Denver.  This created quite a bit of controversy and this topic is one that I think will be discussed more in the near future. (If someone could write something up on this… great!)   After much discussion and a small protest/moment of silence the race got underway. It was a gruelling 4 hours in sweltering heat at a 5,280 ft or 1,610 m elevation.   In the end Kelly Pennington from Montreal and Austin Horse from NYC were crowned the 2015 NACCC Champions! Congrats to you both!
This years Open Forum had Baltimore, LA and Milwaukee all putting in bids to host NACCC 2017. We used the ballot system of voting again this CMC and it went smoothly again. Many people expressed their appreciation for the newer system as it allowed them to vote with their heart and not due to peer pressure.   The system is a simple one and only has 2 requirements of voters..
1) you must be a working or ex messenger to vote 
2) you must have attended a NACCC either this year or last year
The voting is open from the end of the first Open Forum and concludes at the beginning of the Awards Ceremony on Sunday night. You must submit your ballot containing your name, race number and the city you'd like to vote for. If you are attending the event but did not register you must come and see me and Ill simply add your name to the list of voters. You DO NOT need to be registered in order to cast a vote.  I do my best over the weekend to find each and every person and ensure that they have cast a vote but the onus lies with you to find me -not a hard task!- and submit your ballot.  The system is very transparent and accountable. Each vote is cross checked with a master list and in the event of any concern to do with the voting, each vote can be verified.  As always we are open to suggestions and are eager to discuss any improvements.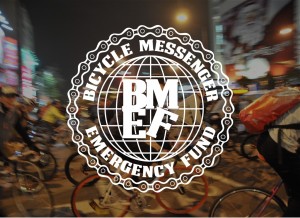 Lastly a quick update on the BMEF..
Each year we receive more and more requests for assistance from the BMEF and this year is no exception. We have paid out over $10,000 this year to messengers who were injured on the job.  Annual fundraisers like MAYDAY, and The MarioKart Krit are crucial to the ongoing ability for the BMEF to help when needed.  Please consider throwing a BMEF fundraiser in your city. Every dollar helps!  It can be a race, a poker night, a movie night, a band show, etc! Get creative!
The BMEF is also selling merchandise to help raise both funds and awareness. We currently have available:
Tshirts -$20
Hoodies-$40
Caps-$15
Jerseys-$80
Koozies-$5
Patches (white or black)-$5
AssSaver Fender $5
If you would like to order any BMEF merchandise please send me an email here or hit me up on Facebook here and Ill get you all set up!  You can also "like" us on Facebook here and check out our website here
Thats all for now but please get in touch with me and let me know what you'd like to see more of on here!  Share pics, words, fliers etc.
See you soon!
~Leah